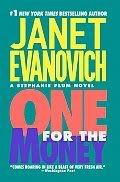 Stephanie Plum is such a funny character.. the book was a real page turner.. and such fun !!
She is still new at this bounty thing and has her work cut up for her..
Barnes & Noble Sypnosis..
Stephanie Plum is a bounty hunter in Trenton, New Jersey. She's out of work and out of money. Her first assignment is to nail Joe Morelli, a former vice cop on the run from a charge of murder one.